So, you think 135 yards is too long? Well, how about 50 feet? That's right, you can now buy putting contest insurance for a 50-foot or longer putting contest for as little as $150. Before, during, or after your tournament, our single or three-putt combination putting contests are sure to create excitement for all your participants.

SINGLE-PUTT PUTTING CONTEST
This putting contest is designed to give a select number of finalists the chance to sink one putt for all the dough! Qualify 1-5 lucky contestants to participate by having a putt-off, closest to the hole putting contest, or better yet, a raffle to raise money for your cause. Gather the crowd to the putting green, set up a 50-foot or longer putt, and watch your finalists try to realize their childhood dreams. Anybody can make one putt!

THREE-PUTT COMBO PUTTING CONTEST
This putting contest will give everybody in your golf tournament the chance to be a hero. Here is an example: Make a 10-footer, win a sleeve of balls (provided by a sponsor). Move on and make a 30-footer, win a golf shirt (once again, provided by a sponsor). While you're hot, make a 50-foot or longer putt and win a new car (this time, provided by Hole-in-One U.S.A.). This contest is great for shotguns in between 18th and 1st holes.
OUR PUTTING CONTEST PACKAGE INCLUDES:
A+ Rated Insurance
Hole-in-One U.S.A. is proud to be underwritten by the Everest Re Group, Ltd. Insurance Group, one of the top 10 insurers/reinsurers worldwide.
The Everest Re Group, Ltd. Insurance Group is "A+" Rated by A.M. Best, the world's leading insurance rating agency. This made Everest Re Group, Ltd. the logical choice to underwrite our hole in one insurance program.
Putting Contest Sign
Buy putting contest insurance and included with every contract from Hole-in-One U.S.A. is a contest sign announcing your sponsor and the prize to be won.
FREE Golf Club for Everyone in Your Event
We want your business! To entice you to buy your hole in one contest insurance from Hole-in-One U.S.A., we've teamed up with TeePrize.com to give everyone in your event a FREE Golf Club of their choice!
How It Works
We will send you a package of Free Golf Club Coupons along with your complimentary event signage (three-putt combination contests only). Simply distribute one coupon to each player in your event as a tee prize. Your participants can redeem their coupon at TeePrize.com where they can select from a variety of FREE high-quality golf clubs, with our compliments.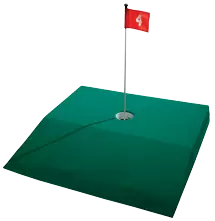 HOLD A PUTTING CONTEST ANYWHERE!
Portable Putting Contest Ramp
Take your putting contest to the local mall, trade show, or fundraiser and generate fun and money for all! We'll sell you an instant putting green, consult you on a successful putting contest promotion, and pay for the prize when someone wins!
HOW TO BUY PUTTING CONTEST INSURANCE